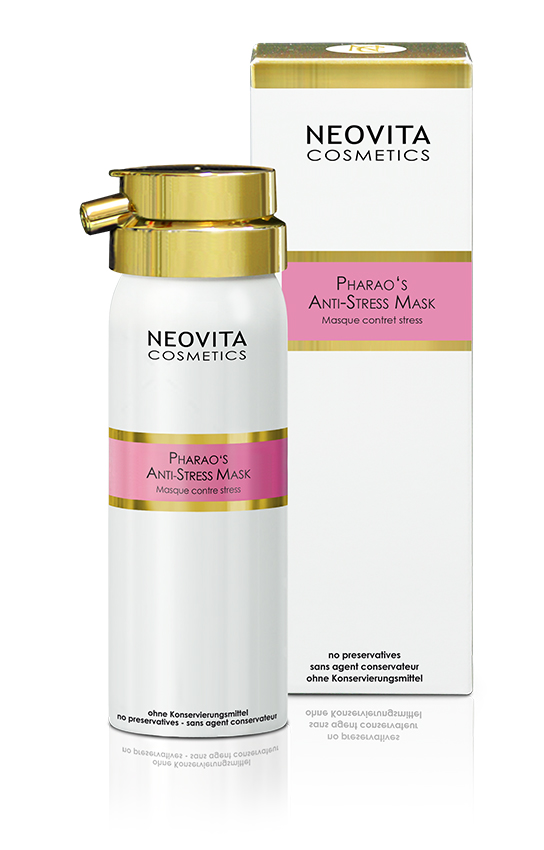 Pharao's Anti-Stress Mask
Delicately melting shea butter in combination with high-quality apricot kernel oil and the unique argan oil form the basis of the pampering Pharaoh's Anti-Stress Mask. Jojoba oil and natural moisturizing factors provide the skin with intensive moisture. In this multiactive base, the active ingredient system "Pharaoh's Secret" with the high-quality extracts of Pharaoh's Wheat and Pomegranate finds an ideal basis for its extraordinary, intensive effect.
Application:
Apply 1-2 times a week depending on the skin condition. Spread evenly over cleansed skin until opaque, leave on for about 10 to 15 minutes. Remove with plenty of warm water or a warm, moist compress. Tone the skin with Soothing Aloe Tonic or another NEOVITA facial tonic or lotion adapted to the skin's condition and care needs and apply the other recommended NEOVITA HerbaCeuticalsTM.
Tip: To enhance the effect, gently work a pearl-sized mousse ball of Pharaoh's Pommegranate Serum into the skin and generously apply Pharaoh's Anti-Stress Mask over it.
Active main ingredients:
Pharaoh's Secret active ingredient system, shea butter, apricot kernel oil, argan oil, jojoba oil, NMF.